ABOUT ME | CHAPLAINCY | ARTWORK | APPAREL | BLOG | BOOKS | MEDIA |

Digital Paintings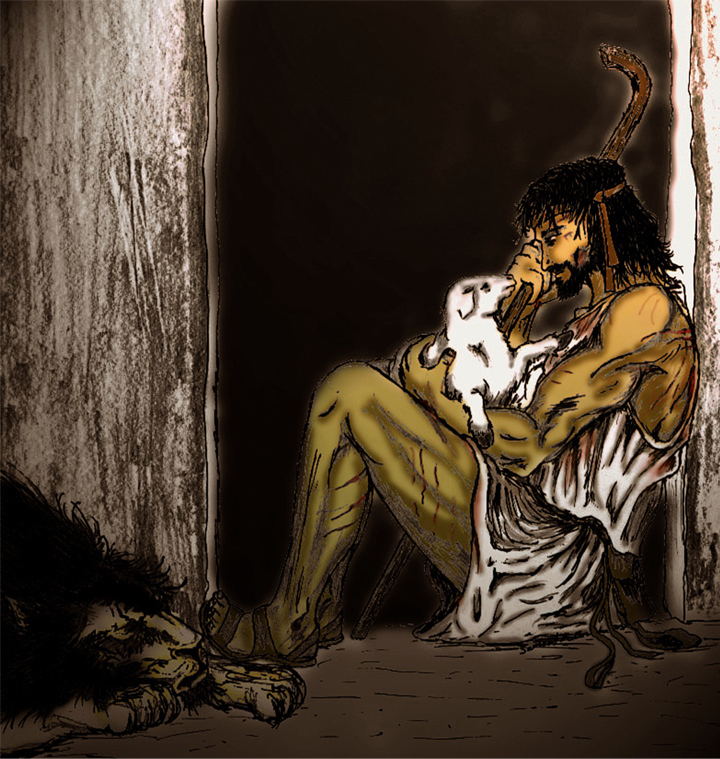 Paintings that Preach
Paintings That Preach is a showcase of prophetic paintings that seek to capture and share real supernatural encounters with God and their divine messages.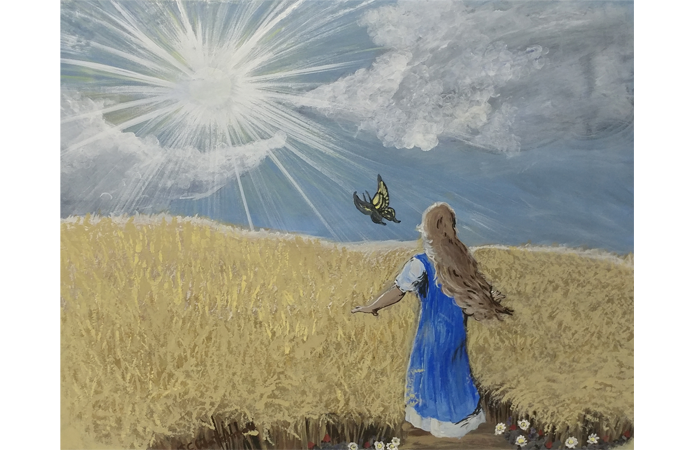 Love Song for a Savior Jan 1, 2018
This last Saturday (23rd of December) I began doing a painting of something that I saw in my mind a long time ago.

At age 14 (Fall of 1998) I remember lying on the top bunk of my bunkbed and listening to the song "Love Song For A Savior" by Jars Of Clay.

As I listened to it I remember having a vision in my mind of a girl walking through a wheat field ready for harvest in the bright sunlight as a butterfly flew around her. I remember a ray of sunlight obstructed her face so I couldn't see it but she seamed not to be noticing much of her surroundings, just enjoying the presence of Jesus.

It made me cry and cry and I didn't know why, probably because I wanted what she had but didn't know that I didn't have it myself.

It is amazing for me thinking back about how the song is also about people sitting in a church building being oblivious to the fact that they are stuck like zombies in the church box unable to come into a personal relationship with Jesus.

Title: "Love Song for a Savior " < Buy A Print
Size: 16×20″ Canvas Panel
Paint: Acrylic
Style: Impressionistic / Prophetic
Time: 10 hrs (conceptual drawing to completion)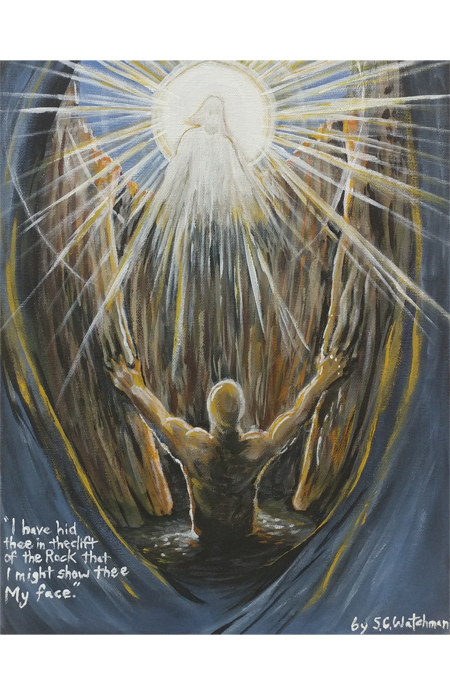 Stuck Jan 1, 2018
Some time around 2008-2010 I had a dream that I was in an orange clay pit. I was unable to get out because the edges were too steep and the walls were wet and slippery and I began to panic because I was very slowly sinking into the clay. Looking up I saw bright sunlight shining down on me and I heard the words,

"I HAVE HID THEE IN THE CLIFT OF THE ROCK … THAT I MIGHT SHOW THEE MY FACE."

Then I awoke.

I immediately remembered what God said to Moses in Exodus 33 when Moses asked to see his glory.

(Exodus 33:19-23 KJV)
"And he said, I will make all my goodness pass before thee, and I will proclaim the name of the LORD before thee; and will be gracious to whom I will be gracious, and will shew mercy on whom I will shew mercy.
And he said, Thou canst not see my face: for there shall no man see me, and live. And the LORD said, Behold, there is a place by me, and thou shalt stand upon a rock: And it shall come to pass, while my glory passeth by, that I will put thee in a clift of the rock, and will cover thee with my hand while I pass by: And I will take away mine hand, and thou shalt see my back parts: but my face shall not be seen."

But I understood that He was saying that He had put me in that pit for the purpose of showing me His face and the only way that I have access to see His face and live was through Jesus.

(Psalms 40:1-3 KJV)
"I waited patiently for the LORD; and he inclined unto me, and heard my cry. He brought me up also out of an horrible pit, out of the miry clay, and set my feet upon a rock, and established my goings. And he hath put a new song in my mouth, even praise unto our God: many shall see it, and fear, and shall trust in the LORD."

Blessings to all.

Title: "Stuck" < Buy A Print
Size: 11×14″ Canvas Panel
Paint: Acrylic
Style: Impressionistic / Prophetic
Time: 10 hrs (conceptual drawing to completion)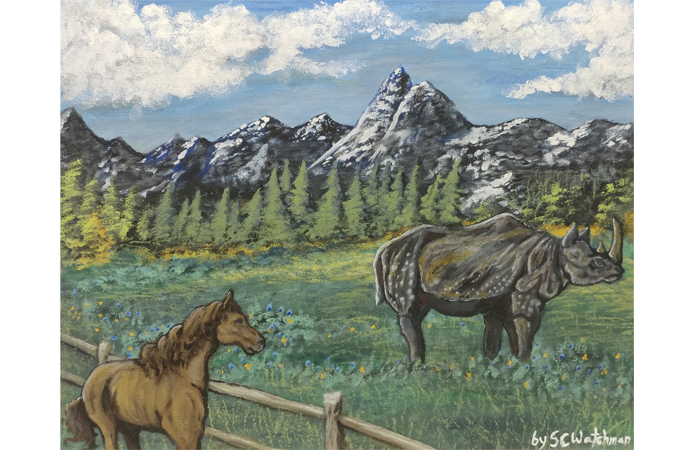 Left Behind Jan 1, 2018
Mayah asked me to paint this picture that she received from the LORD during the Word of Knowledge activation exercise at the Kingdom Awakening Conference back in 2015.

The rhino is someone in supernatural ministry who is feeling very powerful and confident and independent. They are focusing on ministry and ignoring the horse. The horse is their spouse who wants to be close to the rhino and included but feels blocked.

Mayah wanted me to paint it so the Holy Spirit can speak to those powerful rhinos out there and bring healing to their marriage.

Title: "Left Behind" < Buy A Print
Size: 11×14″ Canvas Panel
Paint: Acrylic
Style: Impressionistic / Prophetic
Time: 10 hrs (conceptual drawing to completion)
Seed of Revival Jan 7, 2018
July 27th of 2005 I had a dream about the woman with the wings of the great eagle in Revelation 12. In my dream she had red, yellow and blue tips on the feathers of the wings.

I drew this picture showing how she is flying into the wilderness where she will be protected from the face of the dragon who is spewing water out of his mouth to overtake her but the earth is opening it's mouth to swallow up the water.

The picture is combined with a prophetic word that was given to Mayah about a single poppy blowing in the wind and the seeds being spread by the wind (Holy Spirit) and growing into a whole field of poppies. It represents the spread of the Kingdom during tribulation and persecution.

The thing that stands out to me is that it is the water, which the dragon intended to use for destruction, which is nourishing the field of poppies.

Title: "Seed of Revival" < Buy A Print
Size: 11×14″ Canvas Panel
Paint: Acrylic
Style: Impressionistic / Prophetic
Time: 10 hrs (conceptual drawing to completion)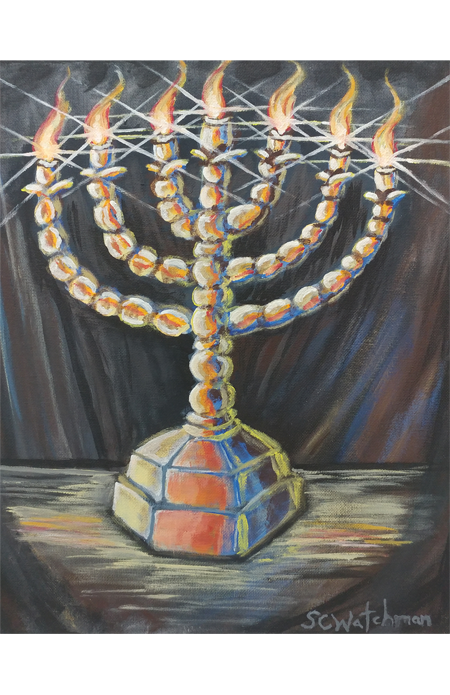 Shine Jan 11, 2018
So I wanted to paint again and I got a picture of a seven branch candlestick (Menorah) but it was just one thing. I knew that the light of the candles was very important. But I put it out of my mind and kept asking God for what I should paint. But I couldn't get it out of my head. I wanted to paint a Menorah really bad so I thought maybe the Menorah could be in the background, but I really didn't like the look of the foreground so I stuck to just doing the Menorah.

As soon as it was recognizable Mayah looked over and told me that she had had a Menorah in her mind all week.

As I worked I kept thinking about Chanukah and how, (when the temple had been cleansed and rededicated to the true God), the Menorah was lit once again and God caused it to burn for 8 days instead of 1.

Then I thought about the parable of the wise virgins in Matthew 25 that had stored up their oil and waited patiently for the bridegroom.

After finishing this painting Mayah and I thought about it and got what we believed was the meaning separately. I told her the title that I got and she had gotten the same title & meaning.

"Shine"

(Isaiah 9:2 KJV)
"The people that walked in darkness have seen a great light: they that dwell in the shadow of death, upon them hath the light SHINED."

(John 1:5 KJV)
"And the light SHINETH in darkness; and the darkness comprehended it not."

(Matthew 5:14-16 KJV)
"Ye are the light of the world. A city that is set on an hill cannot be hid. Neither do men light a candle, and put it under a bushel, but on a candlestick; and it giveth light unto all that are in the house. Let your light so SHINE before men, that they may see your good works, and glorify your Father which is in heaven."

(Daniel 12:3 KJV)
"And they that be wise shall SHINE as the brightness of the firmament; and they that turn many to righteousness as the stars for ever and ever."

Church, this is who you are.
This is why you were made.
You were made to be in darkness.
You were made to light up the darkness.

Title: "Shine" < Buy A Print
Size: 11×14″ Canvas Panel
Paint: Acrylic
Style: Impressionistic / Prophetic
Time: 6 hrs (conceptual drawing to completion)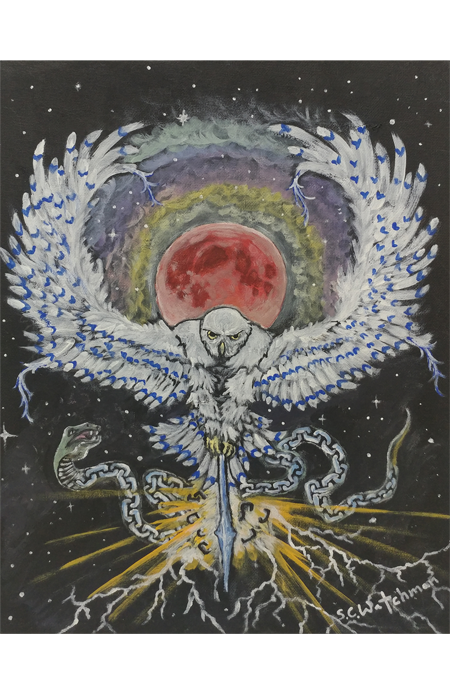 Vindication Jan 19, 2018
I've been thinking about this picture since late October now.

It shows a Snowy Owl with a Blood Moon behind him and a Moonbow around it.
The Owl is wielding a Sword of lightning, slicing through a Serpent/chain in the air.

The Serpent is the Accuser that has power at night to keep his subjects in Darkness and thus Illusion and Slavery.
But God loves Truth and hates Slavery so he sends forth an Owl who can see in Spirit and thus dispatch the Serpent.
Owls are considered to be an unclean, (shunned and/or rejected) creature but when an Owl is White it is good, though solitary. It is a Messenger that brings clarity and thus shatters the spell of Illusion.
The Moonbow is an extremely rare phenomenon which symbolizes a Promise spoken in the Light which did not come in the day but is fulfilled in the night when none expected to see it. The Blood Moon symbolizes the day of Judgement, which comes when men do not expect it to.

(Genesis 49:17-18)
"Dan shall be a serpent by the way, an adder in the path, that biteth the horse heels, so that his rider shall fall backward. I have waited for thy salvation, O LORD."

(Isaiah 54:17)
"No weapon that is formed against you will prosper; And every tongue that accuses you in judgment you will condemn This is the heritage of the servants of the LORD, And their vindication is from Me," declares the LORD."

(Luke 18:7-8 KJV)
"And shall not God avenge his own elect, which cry day and night unto him, though he bear long with them? I tell you that he will avenge them speedily. Nevertheless when the Son of man cometh, shall he find faith on the earth?"

It was also partly inspired by Josh Garrels song White Owl.

Title: "Vindication" < Buy A Print
Size: 11×14″ Canvas Panel
Paint: Acrylic
Style: Impressionistic / Prophetic
Time: 10 hrs (conceptual drawing to completion)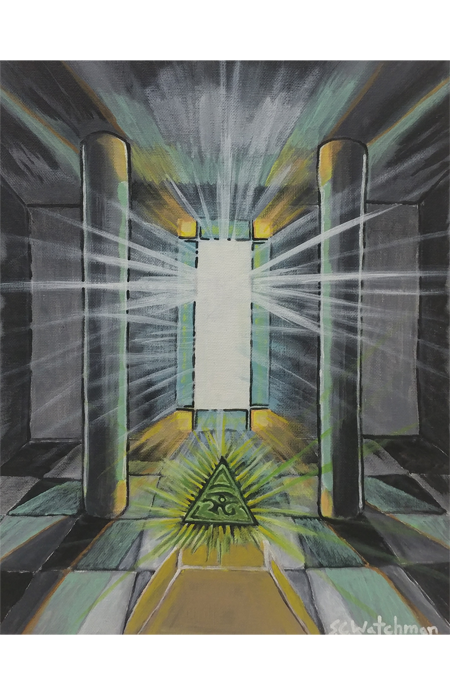 Escape Jan 24, 2018
​On October 24th of 2007 I had a dream that I was in a marble room and in the western wall was an opaque stain glass window the size of a door from which all light in the room came, though one could not see through to what was outside. At the eastern end of the room was a marble throne and on it an evil effeminate male figure in a white suit coat with very long strait white hair, (but no facial hair). Young in face, old wicked and cunning in eyes. He was/is the master of the marble room. In the center of the room was a gold pyramid and rotating above it was an emerald green capstone with an eye carved into it and a green light shining from within. Also there were many Templars from throughout time, who served the master, in the room. Then I heard the sound of a rod of iron strike the floor though I didn't see it and the "master" said, "It is time. There can be only one." And they began to fight and kill each other for possession of the emerald capstone. They continued killing each other until finally only two Templars remained, and they both destroyed each other. Then the light on the other side of the window began to shine less into the marble room and the darkness in the room began to close in from the east. The evil master suddenly vanished from the throne as the darkness passed over it. I was suddenly very afraid. I was trapped in the room and when the darkness filled it, it would no longer exist. I turned to face the window and I knew that it was the only Way out.

I grabbed the capstone and threw it at the window and they both exploded together and the light caught me and sucked me out of the dark room. I was safe floating in the world beyond the window, and I awoke.

Now this is the meaning of the dream:
The room is the Systems of this world.
The one on the throne is the god of this world.
The capstone is Knowledge.
The Window is Jesus.

Everyone wanted the Knowledge to control the System so that they could get what they wanted but it was all a Temptation designed to keep them in Darkness and the only Way out of this System is through Jesus.

(1 Corinthians 10:13-14 KJV)
"There hath no temptation taken you but such as is common to man: but God is faithful, who will not suffer you to be tempted above that ye are able; but will with the TEMPTATION also make a WAY to ESCAPE, that ye may be able to bear it. Wherefore, my dearly beloved, flee from idolatry."

(Luke 3:7-8 KJV)
"Then said he to the multitude that came forth to be BAPTIZED of him, O generation of vipers, who hath warned you to FLEE from the WRATH to come? Bring forth therefore fruits worthy of REPENTANCE, and begin not to say within yourselves, We have Abraham to our father: for I say unto you, That God is able of these stones to raise up children unto Abraham."

Title: "Escape" < Buy A Print
Size: 11×14″ Canvas Panel
Paint: Acrylic
Style: Impressionistic / Prophetic
Time: 10 hrs (conceptual drawing to completion)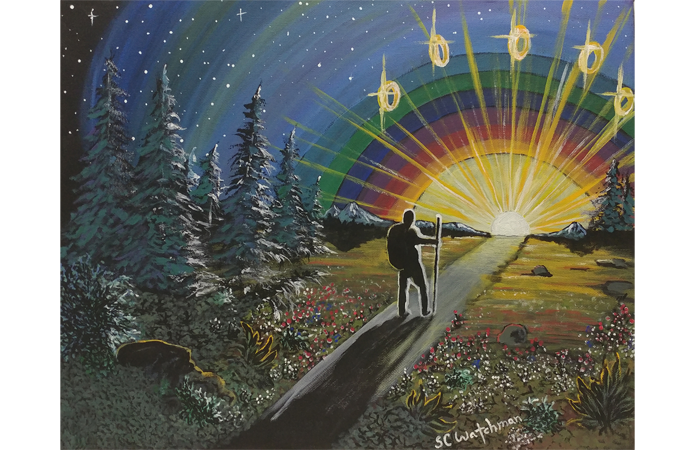 Five Rings Feb 24, 2018
This is a painting of the first prophetic thing that I remember happening in my life.
At around age 7 I had a dream that I was standing on a green hill on a path that led out toward a light far away. I also saw a rainbow over the light and 5 golden rings above the rainbow. Looking back I saw the light as a sunset. I saw a figure going away into the sunset and I wanted very badly to go with him but I had to stay behind with a woman.
The interesting thing is that I was given both the dream and the interpretation of the dream and I told them to my mom.
The interpretation was that my favorite uncle was going to go away to California for 5 months and when he came back he was going to marry my babysitter who lived here in Colorado.
I knew nothing about this before that time but as it turned out that is exactly what happened.
The dream is still really clear in my mind and I wanted to paint it in case it ever began to become less clear in my memory.

Title: "Five Rings" < Buy A Print
Size: 14×18″ Canvas
Paint: Acrylic
Style: Impressionistic / Prophetic
Time: 10 hrs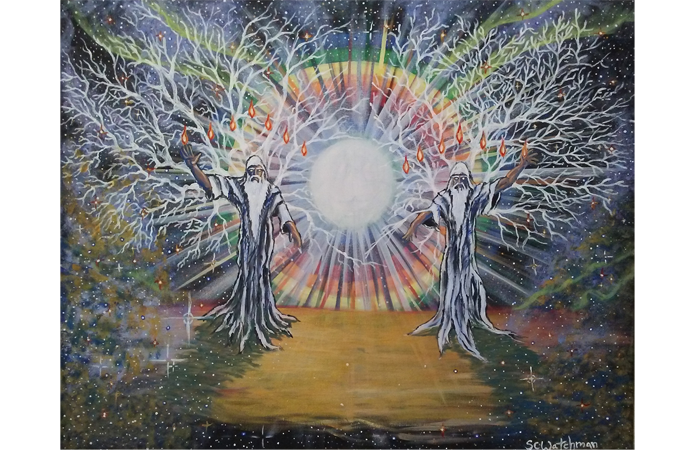 The Two Witnesses May 9, 2018
My inspiration for this painting was that God speaks once in the Old Testament and a second time in the New Testament but the people of the earth do not recognize it. God spoke and His voice shook the earth, but now He has also promised to shake the heavens. In the mouth of two or three witnesses every word of God will be established. He therefore sends His disciples out two by two to be His witnesses and to turn the people of the earth from Darkness to Light. They call for Repentance from Sin and Faith in Jesus Christ to save from Sin, but their testimony is not in words only but also with the power of the Holy Spirit. Revelation 11 goes on to explain that their testimony of Jesus will lead to them being hated and despised by the people of the world but they are the anointed ones from Zechariah 4 who stand on the right and on the left of the throne of God and they will not be harmed until the days of their testimony have been completed.

(Genesis 5:24 KJV)
"And Enoch walked with God: and he was not; for God took him."

(2 Kings 2:11 KJV)
"And it came to pass, as they still went on, and talked, that, behold, there appeared a chariot of fire, and horses of fire, and parted them both asunder; and Elijah went up by a whirlwind into heaven."

(Malachi 4:5-6 KJV)
"Behold, I will send you Elijah the prophet before the coming of the great and dreadful day of the LORD: And he shall turn the heart of the fathers to the children, and the heart of the children to their fathers, lest I come and smite the earth with a curse."

Title: "The Two Witnesses" < Buy A Print
Size: 24×30″ Stretched Canvas
Paint: Acrylic
Style: Impressionistic / Prophetic
Time: 10 hrs (conceptual drawing to completion)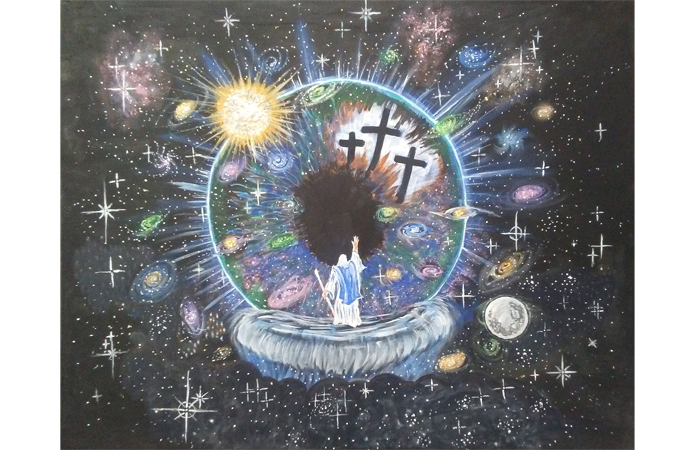 Hebrews 11:3 May 24, 2018
(Hebrews 11:3 KJV)
"Through faith we understand that the worlds were framed by the word of God, so that things which are seen were not made of things which do appear."
Other verses that inspired it are as follows.
(Genesis 1:1-2 KJV)
"In the beginning God created the heaven and the earth. And the earth was without form, and void; and darkness was upon the face of the deep. And the Spirit of God moved upon the face of the waters."
(John 1:1-3 KJV)
"In the beginning was the Word, and the Word was with God, and the Word was God. The same was in the beginning with God. All things were made by him; and without him was not any thing made that was made."
(Revelation 13:8 KJV)
"And all that dwell upon the earth shall worship him, whose names are not written in the book of life of the Lamb slain from the foundation of the world."
Title: "Hebrews 11:3" < Buy A Print
Size: 24×30″ Stretched Canvas
Paint: Acrylic
Style: Impressionistic / Prophetic
Time: 15 hrs (conceptual drawing to completion)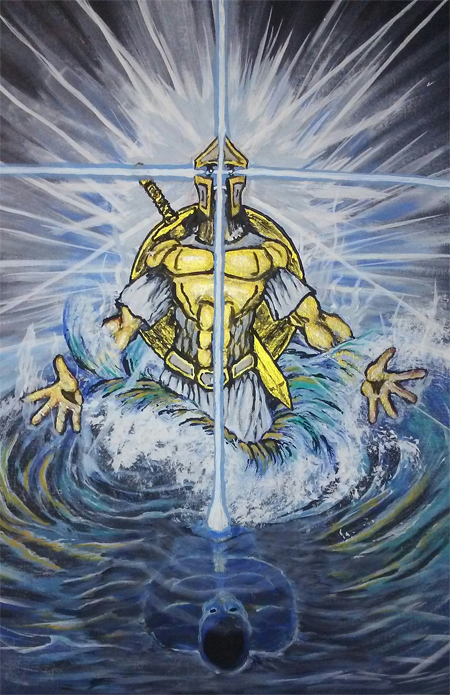 Salvation Oct 5, 2018
I painted this to illustrate what happens when someone is Born Again of Water and Spirit, (John 3).

The Old Man of Sin (Sin Nature / Carnal Mind / the Flesh) is crucified & Buried in the Waters of Baptism (Romans 6) with Jesus and the New Nature / Spirit is Born Again / Risen with Christ, with the mind of Christ, IN Christ who is the Full Armor of God (Ephesians 6). They receive / are joined to the Holy Spirit of God (1 Corinthians 6:17), who was with them before (bringing them to Repentance and Faith) and has now become One spirit with them (Ezekiel 36:27) .

(Galatians 3:26-27 KJV)
"For ye are all the children of God by faith in Christ Jesus. For as many of you as have been baptized into Christ have put on Christ."

He is our Peace (Ephesians 2:14)
He is our Salvation (Matthew 1:21)
He is our Truth (John 14:6)
He is our Righteousness (Isaiah 61:10)
He is our Faith (Galatians 2:20)

Title: "Salvation" < Buy A Print
Size: 20×16″ Canvas Panel
Paint: Acrylic
Style: Impressionistic / Prophetic
Time: over 10 hrs (conceptual drawing to completion)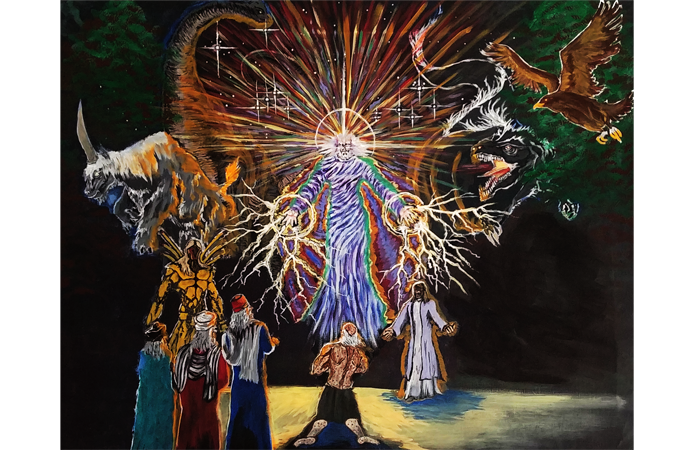 Where Were You ? Jan 2019
An illustration of the Book of Job.
Video Game Modding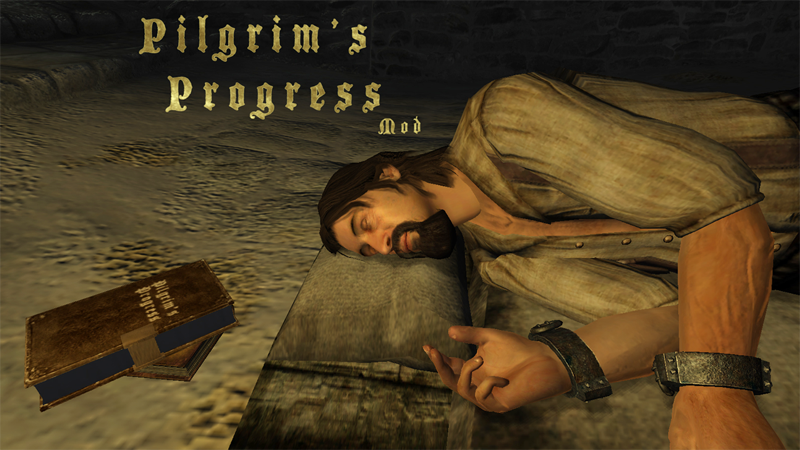 The Pilgrim's Progress Mod (May 1, 2011 – December 4, 2011)
The Pilgrim's Progress Mod adds a new quest line to The Elder Scrolls IV: Oblivion PC Game.
The Pilgrim's Progress Mod follows the basic plot of the first part of the book The Pilgrim's Progress by John Bunyan.
Download: The Pilgrim's Progress Mod Video Add: Pilgrim's Progress for Oblivion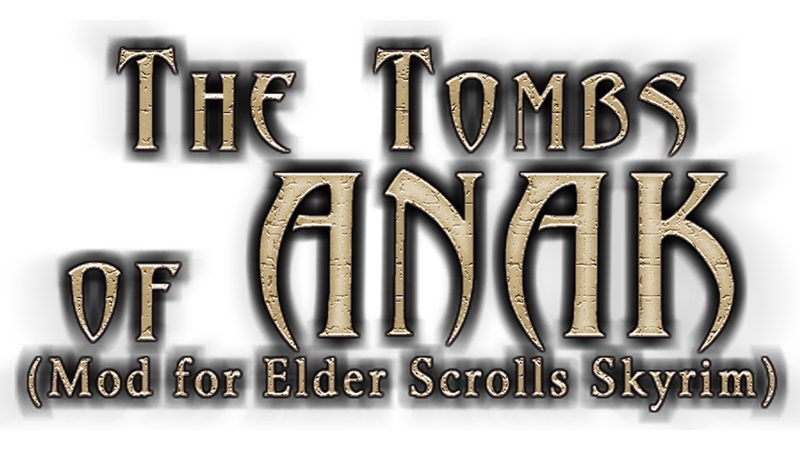 TTOA: The Tombs Of Anak Mod (March, 2012 – May, 2013)
The Tombs of Anak Mod adds a new quest line to The Elder Scrolls V: Skyrim PC Game.
Descend into an ancient Giant's Tomb to conquer the Giant Anak and his three demonic sons with the help of the Biblical Caleb the Son of Jephunneh and the Full Armor of God.
Download: TTOA: The Tombs Of Anak Mod Video Add: The Tombs of Anak for Skyrim
Reviews: Novajam, Oster The Brony 1 & 2